CCHH Concept Cycles Hamburg
Specialized Hamburg creates a world-first concept with PPDS.
Background
A concept like no other, Specialized Hamburg is the world's first cycling store to combine state of the art equipment with a personal experience tailored for each customer. Set in a unique location that was originally designed as a luxury hotel in 1910, this pop-up store spared no expense in creating the ultimate space for cycling enthusiasts across all levels. Specialized is a brand that's made for riders by riders—with a noble aim of representing the importance of the bicycle in everyday life, work, sport, and leisure.
Challenge
Concept Cycles Hamburg had only three weeks to set up their Hamburg store. A global pandemic thrown into the mix added to the challenge of completing this time-critical task. This popup concept needed to provide a premium customer-centric experience, whilst also assuring customer safety that complies with strict COVID-19 regulations. These restrictions also meant that fewer staff can be in the store, so an innovative solution was needed to ensure that customer service was not impacted.
Solution
Such a demanding challenge required an elite team to solve it. Specialized collaborated with P.O.S. Television GmbH and PPDS to bring their pop-up concept store to life. Together, a complete digital set up that met every requirement was quickly devised and deployed. High-brightness displays were strategically placed in the shop front to captivate customer attention from outside the store. Inside the store, a vibrant videowall was installed to wow customers with inspiring content. A digital touch-screen kiosk was also installed to give customers tailored product information based on their needs. To comply with COVID-19 regulations, the store was fitted with PeopleCount—a digital customer entrance management solution that is reliable and effortless. This complete solution resulted in a successful store set up that offered a unique experience, superior service, and outstanding sales results.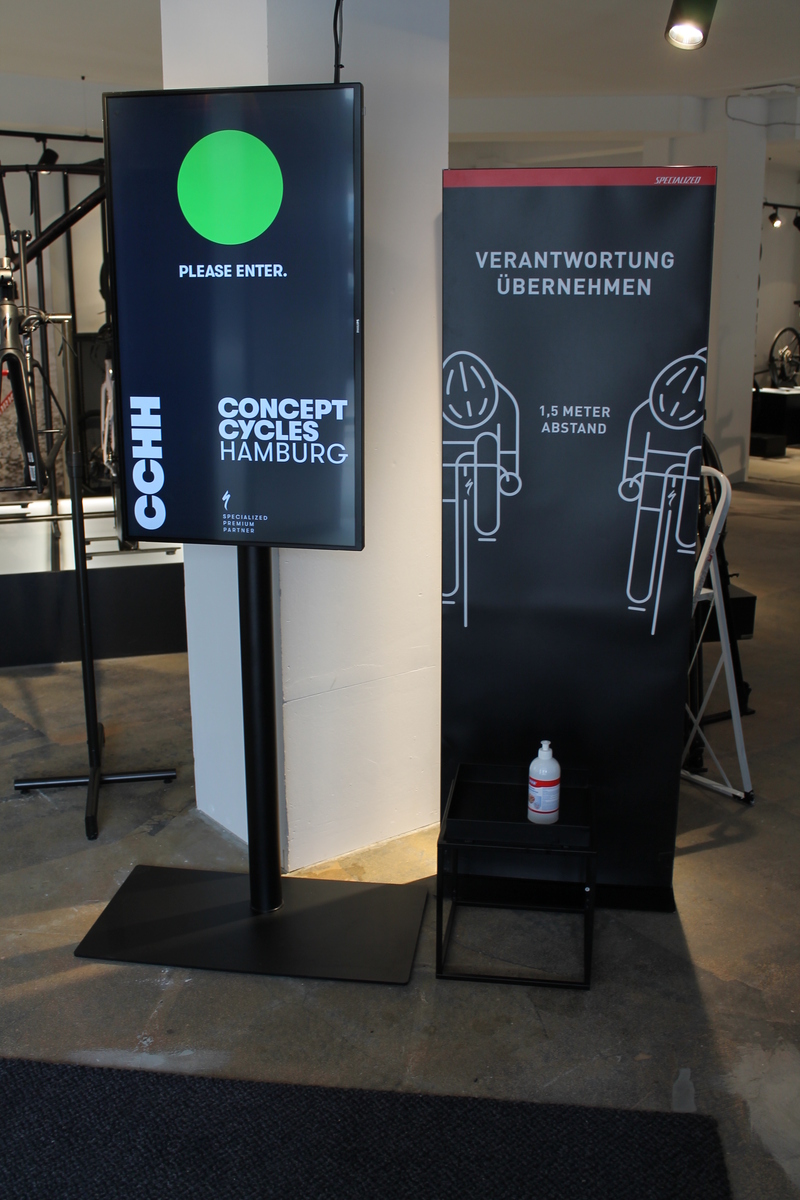 Benefits
COVID-19 compliant: Customer entrance management is automatically controlled via the Philips exclusive PeopleCount solution, which circumvents the need for door staff.
High-brightness street signage: High-brightness street facing digital displays command attention in any lighting condition to boost store visibility and attract customers.
Touch-screen kiosk: Tailored customer service is offered by intuitive touch-screen displays that provide product information that is relevant to customer needs.
Vibrant videowall: Lifestyle content is beautifully displayed on a large-scale videowall to create a memorable experience that perfectly displays product advantages.
Digital signage: Information about financing, workshops, leasing events and more can be easily displayed across the various digital signage displays.