Geschwister-Scholl-Gymnasium
Geschwister-Scholl-Gymnasium revolutionises learning with PPDS
Background
Paving the path to a brighter future for all, Geschwister-Scholl-Gymnasium is an internationally recognised school with a noble mission. An integral part of the Velbert school landscape since 1903, this German school now carries the name of iconic anti-war activists Sophie and Hans Scholl—founders of the 'White Rose'—an intellectual group that encouraged citizens to resist the Nazi regime. Today, the GSG proudly stands as a school without racism, a school with courage.
Challenge
Renowned for its revolutionary values, Geschwister-Scholl-Gymnasium has achieved certification as "Europe school" and German Government sponsorship for its educational advancements. Now, it was time to match its forwardthinking curricular with future-ready technology. Stepping away from traditional chalkboards and overhead projectors, the school had its vision set on a complete digital overhaul that would inspire its students with immersive experiences and limitless connectivity. Considering the volatility of global events, the GSG also needed a solution that was flexible enough for on campus student information and distance learning.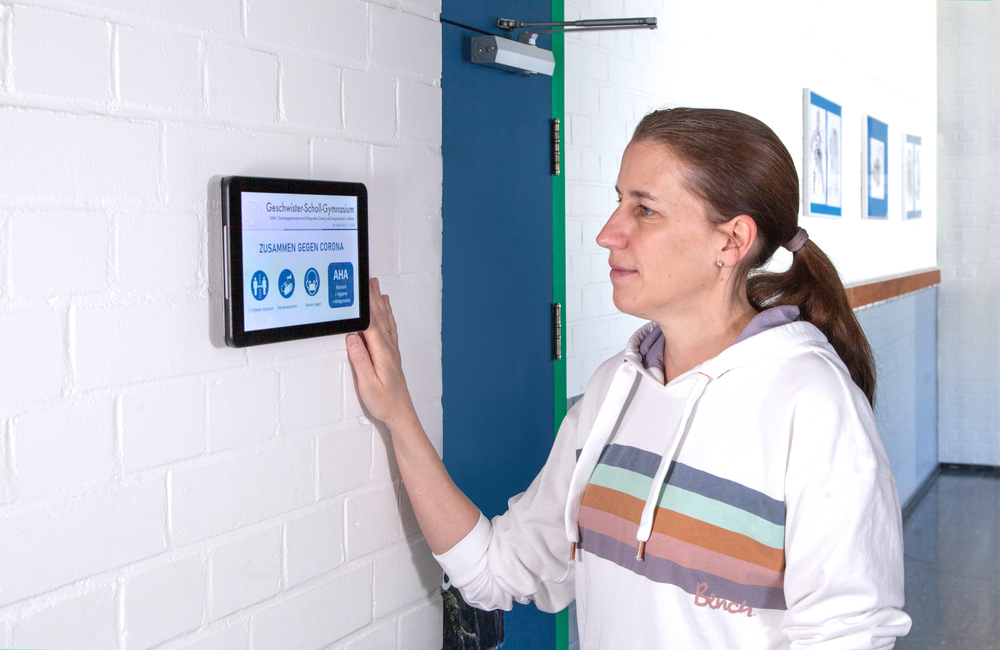 Solution
Geschwister-Scholl-Gymnasium partnered with PPDS for a complete digital transformation. Utilising a suite of products from Philips, Vogel´s, SmartMetals, Logitech, and MDT, wide parts of the school were upgraded with one of the most impressive tech overhauls seen in education. Chalkboards were replaced with over-sized Philips T-Line 86" and 75" interactive displays—enabling collaborative learning through multi-media content and freehand input directly on the display with 'whiteboard mode'. Philips 10" T-Line displays were placed outside each classroom for easy to read dynamic content including the name of the room, lesson, teacher, and other important information. The school was also strategically fitted with a suite of Philips D-Line and Q-Line displays to ensure all students and teachers had access to live information at all times. All displays are controlled via a custom CMS, which allows for automatic and manual updates from a central location. Lesson management has been digitised utilising i3LEARNHUB learning software, enabling better control as well as cloud based access for distance learning. Better still, students and teachers can now interact with the displays and each other using their personal devices during lessons for a more immersive experience.
Benefits
Interactive lessons: Philips-T-Line enable teachers and students to collaborate using multi-touch technology and advanced connectivity from multiple sources including personal devices.
Wayfinding: Vital classroom information including lessons and teacher info is dynamically displayed outside each room, enabling greater room scheduling versatility and faster class efficiency.
CMS control: Content can be created and deployed from a central location and pushed across all displays or selected units.
Cloud-based lessons: i3LEARNHUB learning software enables on-site and distance learning in real-time across all displays.