Setting up the classroom for hybrid learning
Teaching a hybrid class. Sounds easy? You'd be mistaken! With a mix of students in the classroom and some working remotely, to be able to carry out a hybrid lesson successfully, teachers need to balance proven teaching methods with modern tech, and to make sure the messages they want to convey work in person and over the wire (or the air!)



Hybrid learning is on the increase. A technique that actually did exist before covid restrictions forced all students to work from home, since March 2020 it has become a phenomenon that more and more educators are researching and implementing. And it looks set to stay for some time.
So what is hybrid learning? Hybrid learning is an educational technique where some students participate in person in the classroom, while some access the classroom remotely, online, simultaneously.
And how do you set up a classroom to teach a hybrid cohort?
Setting up a successful hybrid classroom very much depends on the community and interaction that a teacher is able to establish. It also depends on the technology that's in place.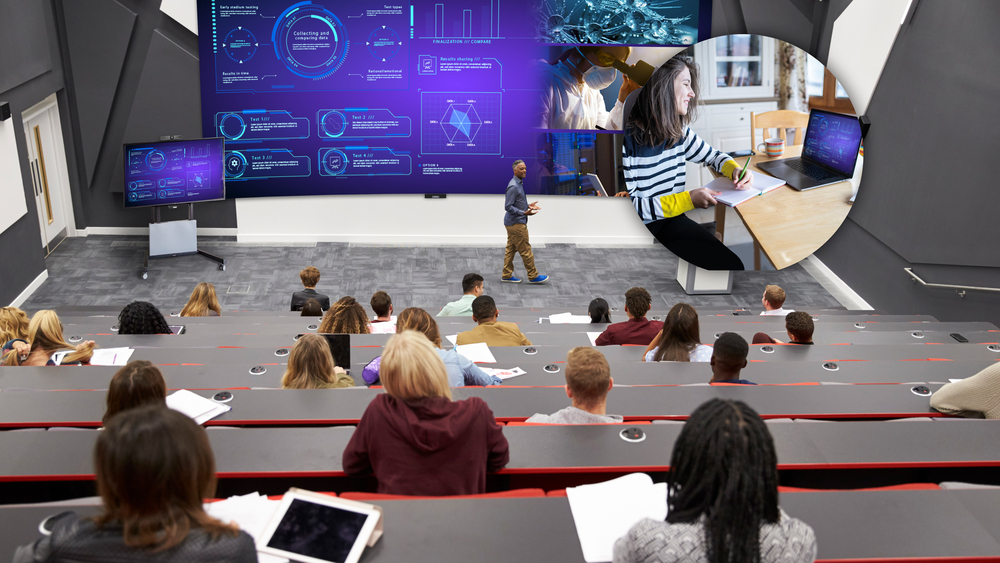 As with any IT or AV set up, specifications and equipment needed will depend on the size and shape of the classroom, the class size and the budget you have available. When setting up, it's important to remember:
Cameras – you will need at least one camera – webcam – in the classroom to help students to see all assets being used within the lesson, not just what's on the screen or at the front of the class. Cameras should be placed strategically and reviewed regularly to make sure they enable total engagement and, to ensure maximum effect, the webcam trained on the teacher should be a high quality investment.

Space – you may find you need to zone your classroom in a different way to ensure that those in the room have space to move, and some space to be more private, and so that remote class members feel involved even when attention is elsewhere in the classroom.
Videoconferencing – the tool you use for communication and collaboration will play a large role in whether remote learners can keep pace with the physical class. It will also dictate which cameras you may need, how they are set up and where. The platform you use will depend on which the teacher is most used to, but it also needs to be sturdy enough to allow those joining remotely to collaborate with the whole class, too.
Audio – you need to be able to hear those accessing the lesson as much as they can hear you. A high quality microphone and good speakers make a lot of difference, helping you to direct the noise to its best effect.
Software – to run your classroom successfully, you'll also need the right collaboration software. This could be free, or it could run on a licence. Some interactive displays come pre-installed with software solutions and finding one that allows you to choose the software that works for your education setting may be key.
Connected devices – whether laptops or desktops, Chromebooks, iPads or any other mobile device, the hybrid class needs to be connected together – ideally wirelessly – with technology that allows them to maximise their experience. Devices with built-in cameras, speakers and microphones can help to minimise investment in peripherals.
Interactive displays – the interactive display you choose for your physical classroom will help students to focus, to be inspired, brainstorm and share ideas. Of course, your display could be shared with remote learners via your camera and videoconferencing, but there are now solutions that allow remote devices to connect to the big screen, with the ability to see what's being displayed, in real time. In some cases, students can also mark up the presentation on the classroom display from their own device, too.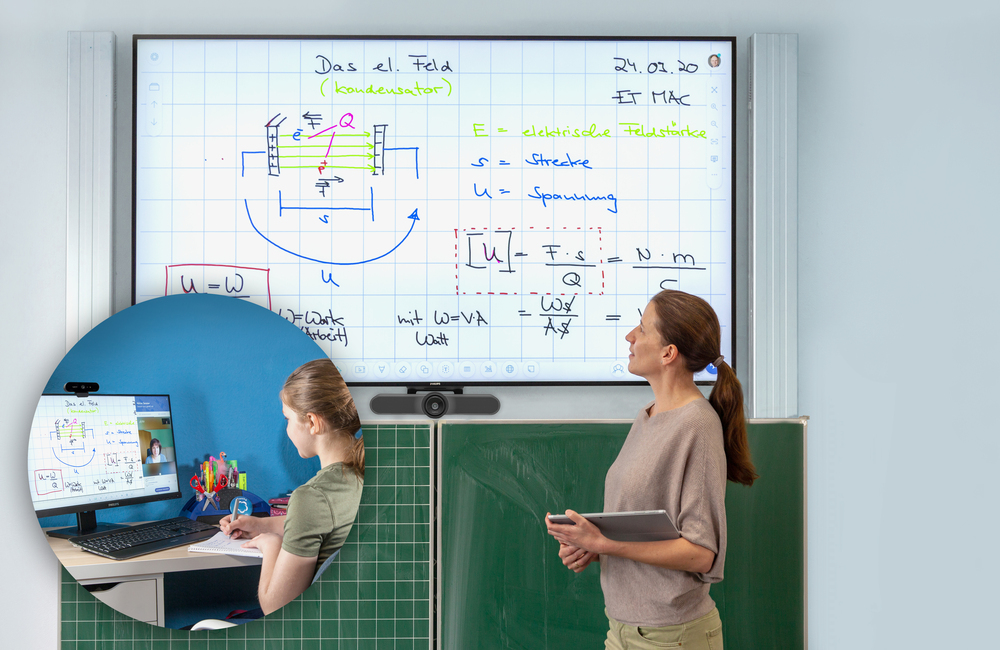 Best in class hybrid learning with Philips education displays
The Philips T-Line interactive touchscreen has been designed, with input from academics and students, to meet the growing requirements of hybrid and blended learning techniques, bringing education displays up to speed with modern requirements, including an interactive whiteboard, wireless screen sharing and videoconferencing.
Available in 65", 75"and 86" size variants, Philips T-Line comes equipped with a wide range of out-of-the-box features and functionality – turning traditional rooms into a hot-bed of interaction, boosting the overall learning experience and overcoming traditional barriers.

What's more, running on an Android operating system, these new era interactive displays can work with a teacher's preferred software, providing almost universal familiarity and ensuring lessons are started on time with minimal distraction. And if software integration is needed, i3LEARNHUB is available directly from the display, providing instant access to an extensive range of new educative and collaborative tools, designed to help teachers create fresh, inspiring and feature-rich tailored content to present during lessons.
Each display features true multi-touch interaction, as well as high speed technology and optimised glass coating to deliver a high-class writing experience, allowing multiple students to physically interact with the display (20 touchpoints) simultaneously, using either their hands, or for more accurate detail, a multi-tip passive stylus. The displays can also connect with a keyboard and mouse and have the functionality to support Active Pen technology.
Ensuring students always have the best view of the screen, T-line – running from a secure wireless connection – allows up to 64 students to connect their own personal computing device directly to the display at the same time – whether in the room or in their own room, working remotely. And work on up to four students' devices can be shared onto the display at any one time.
To learn more about the possibilities for hybrid learning made real with Philips T-Line displays, please contact your local PPDS sales manager.