Class of 2022 – a day in the life of the digital student
Of course, just like every customer, every student is different. While a whole class of students will have been party to exactly the same lesson in a classroom, every one of them will take a slightly different picture away. That's what makes us all interesting. That's what makes collaborative interactive technology interesting, too. Enabling students to take the bigger picture, and both work on and share it from their unique perspective.


The Digital Classroom
In 2022, teachers and lecturers across Europe are delivering a new, digital classroom experience. And it's no longer just about the TV on the wall, the stand alone computers on the desk or the projector whirring in the foreground. The technology that they are using has come on a long way in the last few years.

Here are five digital education experiences and how solutions from PPDS, including the Philips T-Line, can support a better class of learning…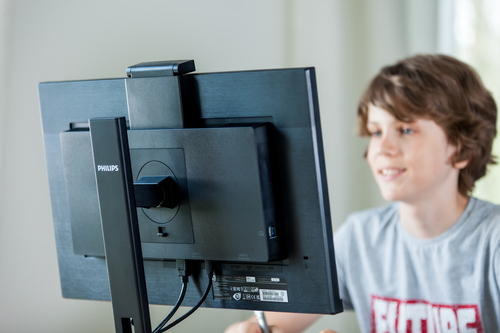 Max - "Before the pandemic we didn't really use computers at school and many of the lessons were done with a projector rather than with a computer and large screen. When we started home learning, we were given paper copies of all of our work to take home with us to complete. This was hard as there was no one to discuss anything we didn't understand. Now, though, our teacher has a large screen at the front of the class and his lessons are all done on that and from his computer. It means that we can cover the things we're interested in with questions to search engines if the teacher doesn't know."
(Max's classroom incorporates a Philips B-Line connected display – using the Chromecast built-in feature, his teacher can connect and present wirelessly onto the large format display, and as it's built on an Android platform, it's totally intuitive for him…there's no need to learn new IT skills and he can use all his preferred software.)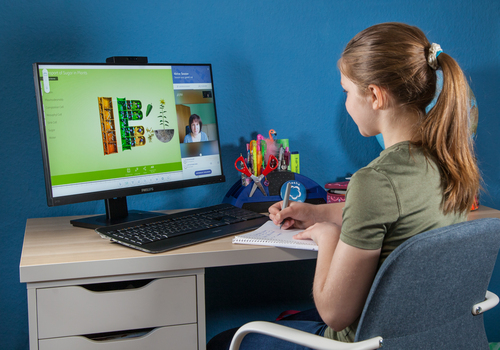 Sophie - "We have always had Chromebooks to use at school and we already had profiles on the system. When we started home learning, the school moved us all onto Google Classrooms where we were able to meet, discuss work and see what the teacher wanted us to do, all from home. It was quite comfortable! Now we are back in the classroom, our teacher has a new, big screen at the front of the class and it's linked to speakers and a camera, as well as to our individual Chromebooks. So if one of us is off, we can see what's being presented on the screen and still interact with our friends in the classroom."
(Sophie's school installed new Philips T-Line interactive education displays into the classrooms. This enables blended learning so that when students are isolating, they can still access the learning that's happening in the classroom, completely involved in their lessons from another location.)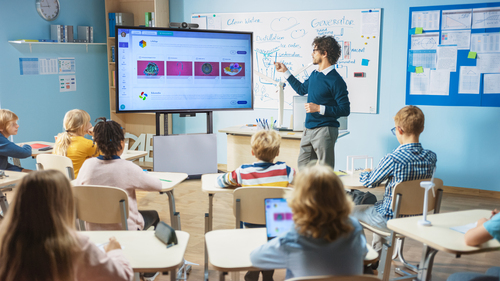 Tom - "There's a really broad range of abilities in my class and catering for them all can be a bit of a challenge. I have a couple of teaching assistants to help me, especially for the children with special educational needs. For them, inclusion and not feeling different is so important. Presenting on a screen at the front of the class isn't always best for them, but with our new displays, they can concentrate on the same work on their own devices, setting them up for their needs, while still taking part in the full class discussions."
(Tom's classroom has been fitted with a Philips T-Line interactive display, that can share wirelessly with up to 64 different devices at any one time, allowing users to set up visually to suit their needs, and to mark-up presentations in a way that helps them to learn and suits their individual requirements. All work can be shared back to the display, or just to the teacher.)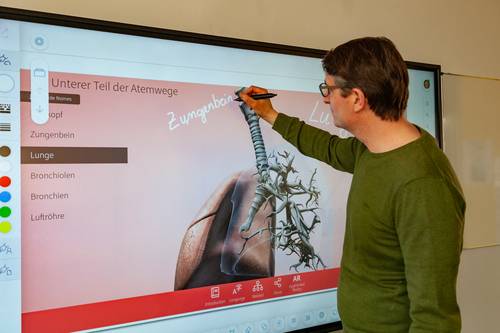 Martin - "Air quality in the classroom has always been a concern, with around 30 people in a fairly small space at any one time. We have a number of students and teachers who need to take particular care while we all work out how to manage this pandemic and now we're installing air sensors, they can learn without the need to worry, as we can actively monitor air quality and ventilate the rooms or move location if there is a risk."
(Martin is installing PPDS Air Quality Sensors into the smaller rooms at his school to ensure that his staff and students have a learning environment that is as healthy as possible. Linking to the Philips displays in the classrooms, it's easy to see when particular matter is too high.)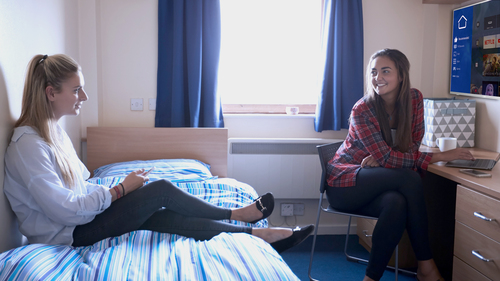 Nicky - "Streaming is a big thing now and our boarding students all want to be able to access their music and video from the TVs in their rooms. The new TVs we have installed allow them to access all their favourite apps and to log into their own streaming services. Our student accommodation is definitely a home from home."
(Nicky's college installed Philips MediaSuite TVs into the student accommodation on site. Built on an Android TV platform, students can connect to the TVs wirelessly from their own devices – from laptops through to phones – and to share presentations, music and content via Chromecast built-in. the college can also manage their distinctive branding and add personalised messaging, in the language of choice for the student in the room.)