MODIVO - bringing phygital to fashion
Cutting-edge store, MODIVO, transforms the retail fashion world...
Background
Paving the future for the retail world, MODIVO is a brand new fashion store concept like no other. Launched in the midst of the coronavirus pandemic, this revolutionary retail store fuses the physical store experience with digital shopping—bringing to life a new phygital concept. Part of the already legendary eobuwie group based in Poland, MODIVO arrives with a team holding over 20 years of experience. Quickly becoming a success story, MODIVO phygital stores are now located in Poland and Czech Republic.
Challenge
A rapidly changing world inspired MODIVO to redefine the shopping experience. With consumer shopping behaviour already shifting to online, MODIVO had a vision to bring the same speed, convenience, and cost benefits to their physical stores. A volatile global pandemic added to the mix also meant that the store had to be designed in such a way that it could continue operating throughout the most challenging conditions. Nanovo, MODIVO's technology partner, has combined hardware, space ergonomics and software to ensure that MODIVO can offer its customers a seamless and exciting new shopping experience.
Solution
MODIVO set out to create a new chapter in retail history. To make this happen they teamed up with Nanovo, the company responsible for the digital in-store technology present in the sales room, in the fitting rooms and integration of digital processes, and PPDS for a truly unique concept. A completely automated store experience was designed and implemented to bring the future of retail into the now. Inside the store, customers are greeted by fully immersive Philips videowall displays showcasing the product range, promotions, and MODIVO branding. With absolutely no products on the sales floor, customers can browse the entire collection on strategically placed digital touch-screen terminals. Product selections are then delivered to the fitting rooms within minutes from the adjoining stock warehouse, which can hold over 100,000 items. Customers can continue making product selections in the fitting rooms via interactive touch-screens connected to the warehouse logistics system for added convenience. This unique set-up allowed MODIVO to implement a multi-channel sales strategy that achieves their goals of brand efficiency and robustness in an ever-evolving retail landscape.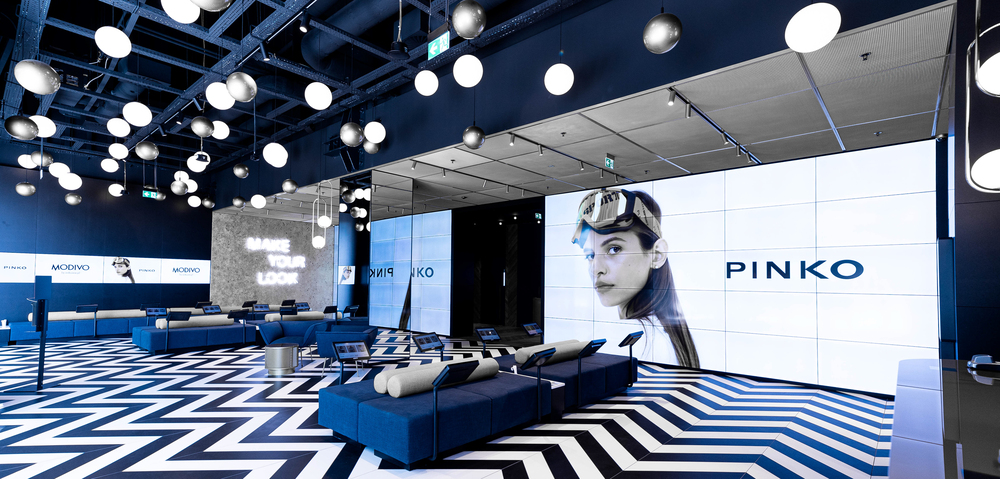 Benefits
Smart remote updates: MODIVO can push new promotions and product selections across their displays instantly.
Remote upgrades: Nanovo can push new software updates remotely to ensure all displays are running smoothly with the latest features and stability requirements.
Versatile connectivity: Android and CMND & Control enable easy integration of Nanovo's proprietary digital in-store platform, SIGNIO.
Futuristic shopping experience: A clean store design with no hangers or clutter seamlessly connects the physical store experience with the digital world, resulting in a pure phygital hybrid store.
Cost efficiency: No display products means fewer staff and less maintenance, allowing MODIVO to keep costs down for the consumer.