Footasylum
Footasylum steps up store footfall with high bright Philips 7000 Series
Background
Established in 2005, Footasylum is one of the leading retailers of fashion streetwear and sportswear in the UK. Always on the lookout for new and upcoming brands, they have their finger firmly on the pulse of the street and sports fashion scene, stocking brand giants that include Nike, Adidas and Jordan, Under Armour, Monterrain and The North Face, Calvin Klein, Tommy Hilfiger, and Alessandro Zavetti, among many more.
Challenge
Always aiming to defy the ordinary, Footasylum appointed PPDS platinum partner, UX Global to design and deliver a fully flexible digital display system, spanning throughout their retail store network, that could be easily updated from anywhere with the capability to include curated social media feeds and high quality synchronised HD video streams.
Once that system was installed, they challenged UXG to roll that out to create large-scale impact, for store reopenings, including the recently refurbished Cabot Circus store in Bristol, which needed a window display to capture attention. This window was subject to regular direct sunlight and had limited access for installation.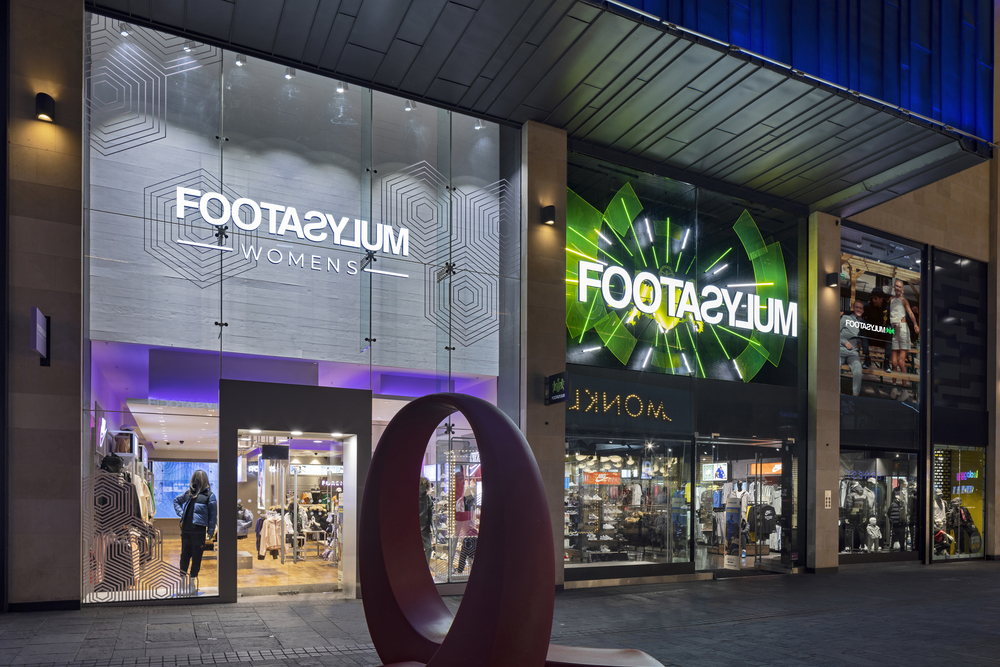 Solution
UX Global worked together with PPDS and Solstice AV to install a brand new P3.1 high bright 7000 series dvLED display, selected for its capability to deliver clarity and performance in even the most challenging lighting conditions, its flat, yet accessible design, and its energy efficient and cost-effective credentials. An added light sensor was also installed to manage levels depending on outside conditions – from super sunny periods to overnight, with added energy saving benefits. This 3.5m x 3.75m display was the first installation of the new 7000 series in the UK, joining the existing fleet of Philips professional displays already installed in store by UX Global. Working together, the displays, including the 2x3 55" Philips X-Line videowall, nine 32" Philips D-Lines and one 55" Philips D-Line. reflect Footasylum's innovative ethos, with the new LED window display creating maximum 'instagrammable' impact for the brand on the high street.
Benefits
Higher bright LED display: Perfect for the ultra-light position of Footasylum's Bristol store and ensuring content remains striking in even the most challenging lighting conditions.
Lower energy consumption: Reducing environmental impact and total cost of ownership. Philips LED displays are designed to deliver proven low energy consumption.
Ideal for areas with restricted access: Size and complexity of installations are all taken care of, with mounting solutions that enable easy installation, configuration and servicing.