Fairmont Hotel Vier Jahreszeiten
Fairmont Hotel Vier Jahreszeiten elevates its VIP experience with PPDS
Background
Boasting beauty, romance, and divine luxury, Fairmont Hotel Vier Jahreszeiten is the epitome of European Grand Hotels. Overlooking the Inner Alster Lake in the heart of Hamburg, this grandiose five-star establishment has gained its reputation for timeless elegance since 1897. With its fine art collection, and extensive first-class amenities including a 1,000 square metre spa and fitness oasis, nine exclusive restaurants and bars and a first class concierge service, Fairmont Hotel Vier Jahreszeiten has become a global icon in opulence.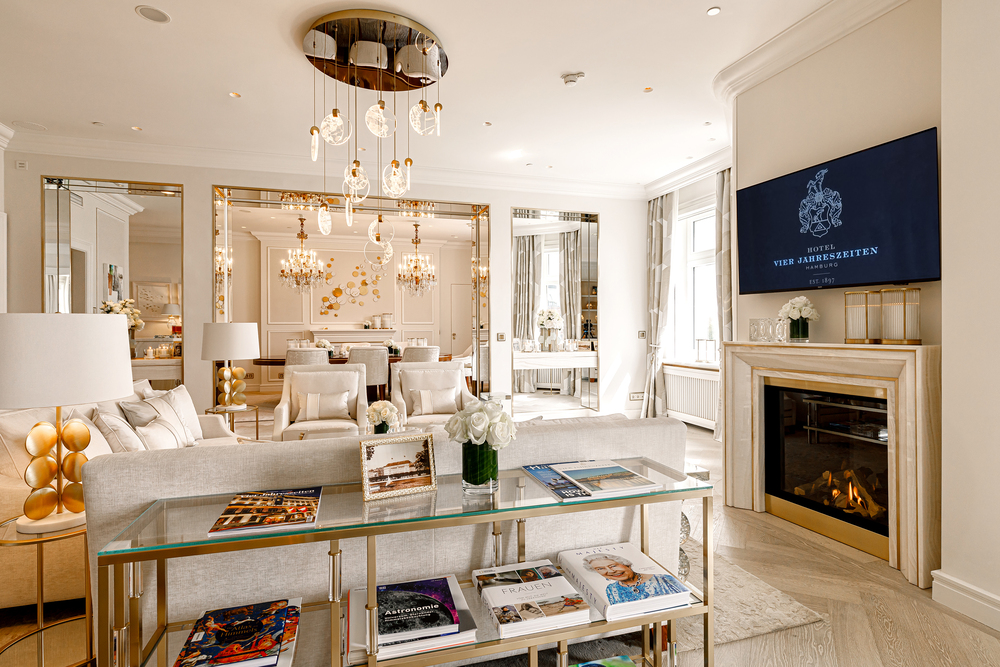 Challenge
Having shaped the image of the Hanseatic city of Hamburg with its iconic presence for well over a century, Fairmont Hotel Vier Jahreszeiten continues to set new standards around the world. Its sheer extravagance and luxury have already made it a dream destination for those that truly appreciate the finer things in life. With the significance of today's technological revolution, Fairmont Hotel Vier Jahreszeiten now had the ambition to also set a new benchmark in its digital entertainment experience for its guests.
Solution
To fulfill their ambition, Fairmont Hotel Vier Jahreszeiten teamed up with PPDS and TV Gessner, Schenefeld. With attention to detail a priority, the team at PPDS worked closely with the hotel and business partner to create a custom solution that exceeded all expectations—through the planning phase to execution. To satisfy the needs of the hotel's VIP guests, the most exclusive guest rooms including the Presidential Suite were fitted with the latest Philips MediaSuite Professional TVs. With versatile central management, and intuitive connectivity, the displays elevated each room with a premium final touch for guests. A personalised welcome message greets guests to start off their stay. Staff can then push more personalised content to each display on command to cater for each guest's needs. With an entire suite of entertainment options at hand, guests can also enjoy a like-home entertainment experience with a touch of a button. Now, all their favourite content—including their own—can be enjoyed on the big screen in stunning resolution.
Benefits
VIP experience: Guests can enjoy a true VIP experience with a personalised welcome message, hotel expenses overview, and amenity bookings through the in-room display's CMND system.
Chromecast built-in: Secure wireless casting from personal devices enables guests to cast their personal content to the big screen with a simple touch of a button.
Netflix: Built-in Netflix allows guests to use their personal Netflix account effortlessly, with automatic sign-out upon check out.
Infinite possibilities: Powered by Android provides access to the Google Play Store for an endless list of apps, games, and entertainment, as well as customised app settings.