Clarion Hotel Post
Clarion Hotel Post fine-tunes their guest experience with PPDS and Speeron
Background
An architectural marvel situated in the heart of Gothenburg, Clarion Hotel Post brings upscale luxury to the plethora of pleasure seekers and business travellers visiting this vibrant Swedish city. Set in the historical Posthuset—a former post office building—the hotel retains much of the beauty and charm from its original design with perfectly preserved pillars, high ceilings, and large windows. Featuring over 500 rooms, award-winning restaurants, fully-equipped conference rooms, a beauty factory, and a spectacular rooftop pool, it's no wonder why the Clarion Hotel Post was voted as the best private hotel in Sweden in 2019.

Challenge
Having earned a well-deserved reputation of luxury and prestige, Clarion Hotel Post wanted to elevate their guest comfort level with an entertainment system that is as evolutionary as the hotel itself. This meant a complete overhaul of the existing entertainment infrastructure and inroom displays throughout the hotel to complement the hotel's warm, personal, and forward-thinking approach.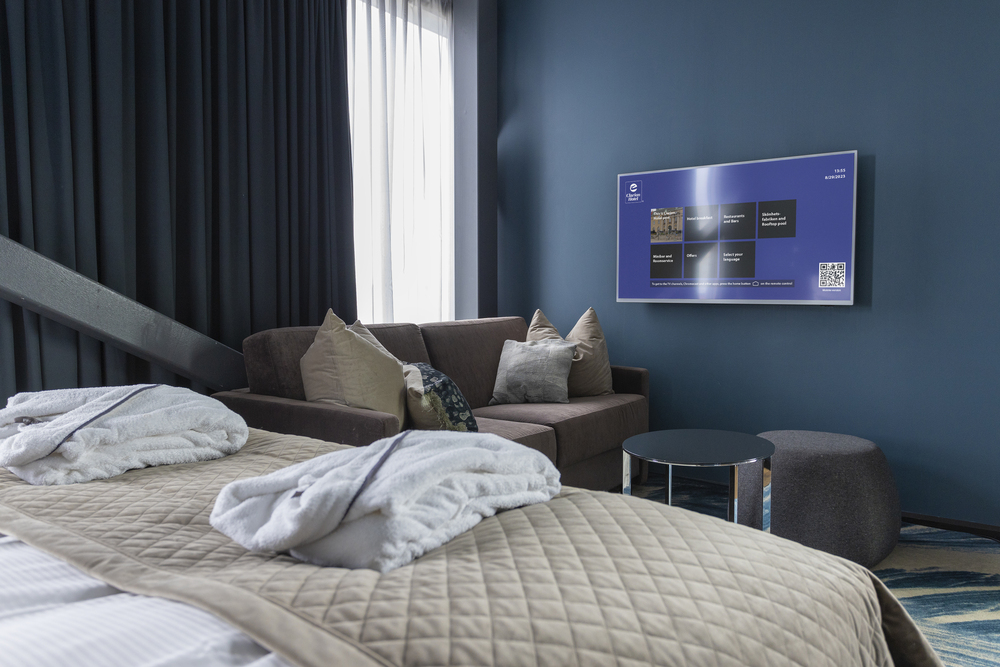 Solution
To achieve their grand vision, Clarion Hotel Post partnered with PPDS and Speeron for a completely tailored entertainment solution. To fit out the guest rooms and common areas, 566 Philips 50-inch MediaSuite Professional Displays were chosen for their superior 4K Ultra-HD picture quality, advanced connectivity, and Android versatility. Combined with the Speeron NEXT platform, the displays were seamlessly integrated with the hotel's property management system for a truly digitalized guest experience. This meant that guests could now order hotel services directly from their in-room TV, and instantly connect their personal devices to enjoy their own media on the big screen. To ensure uninterrupted TV viewing in the most convenient way for both guests and staff, the team at Speeron also distributes the hotel's TV channels through fiber from a centralized headend. This powerful collaboration resulted in a more personalised hotel stay for guests with enhanced entertainment and room service options, as well as clearer communication for a truly memorable time at the Clarion Hotel Post.

Benefits
Chromecast built-in: Instant wireless casting from guest personal devices creates a secure, like-home experience.
Netflix: Built-in Netflix allows guests to use their personal Netflix account with a touch of a button.
Digital concierge: Guests can enjoy information and service offering on their own device. Everything connected to the PMS and without downloading an app.
Personal touch: Guests can enjoy the convenience of indisplay room service options, personalised information, expenditure overview.
Seamless connectivity: Powered by Android provides access to the Google Play Store for an endless list of apps, games, and entertainment, as well integration with the hotel's PMS.