Philips Stadion
Jan Heintze Kick Box by Panduit goes sky-high with PPDS.
Background
A beautiful, modern stadium based in the centre of Eindhoven, the Philips Stadion is the home ground of PSV (Philips Sport Vereniging)—one of the biggest football clubs in the Netherlands. This multi-functional megastructure seats up to 35,000 people, and features world-class amenities to deliver memorable events. Amongst the many amenities within the stadium is the Jan Heintze Kick Box— a versatile skybox designed by Panduit, the world's leading provider of innovative solutions in the field of physical and electrical infrastructure for data centres, industrial and building automation, and related services. This shared skybox is hosted by former PSV player, Jan Heintze—making it a unique and special part Dutch football history.
Challenge
The Jan Heintze Kick Box by Panduit is a premium skybox within the Philips Stadion reserved for exclusive events. A changing landscape driven by a global pandemic has shifted the way we work and interact, with most people no longer meeting at their traditional workspaces for health and safety reasons. Panduit identified an opportunity to use the skybox as a meeting room for their own team, as well as a sharable facility to be booked by external clients from outside their brand via Kick Offices. For this project to be successful, the skybox needed to be equipped with easy to use innovations that can handle the most advanced demands from training, presentations and meeting requirements.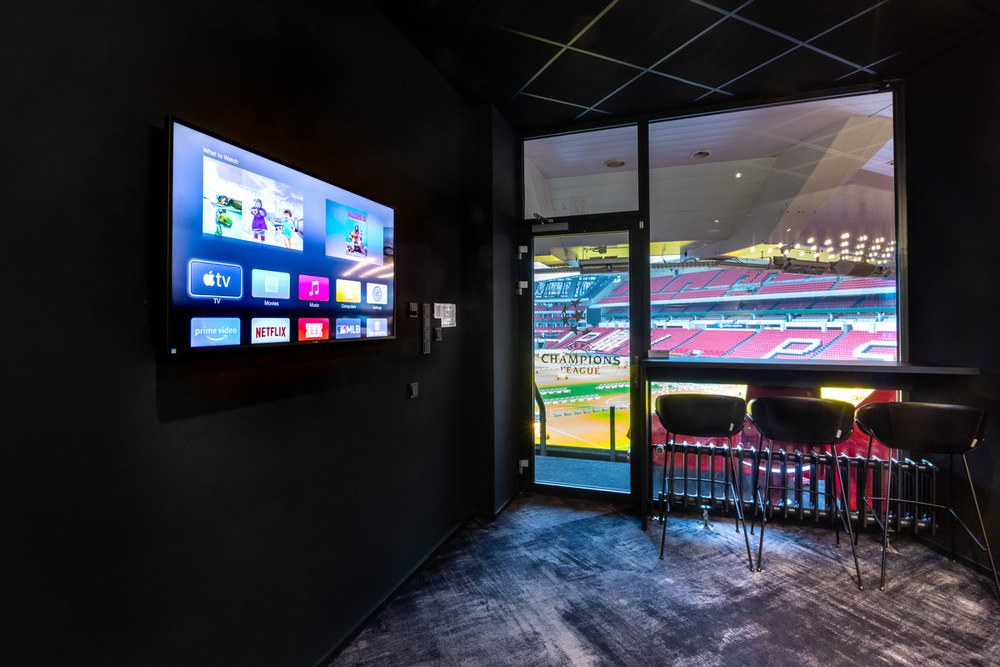 Solution
To ensure the Jan Heintze Kick Box by Panduit delivered on all its requirements, Atlona, Signify, Intelectric and PPDS teamed up to create the perfect space. A suite of eight Philips digital signage displays were selected and installed within the skybox to maximise versatility of use. A custom A/V over IP solution by Atlona enabled easy wireless presentation options to each display—ensuring that both staff and guests can focus on their content in the most seamless way possible. A state of the art sound system was also integrated to seamlessly work with the display system for a holistic premium audio visual experience. The entire system was also future-proofed with Li-Fi integration by Signify for optimised reliability. The result of this custom solution transformed the skybox from an empty and unused space when no games were on, into an in-demand and profitable space.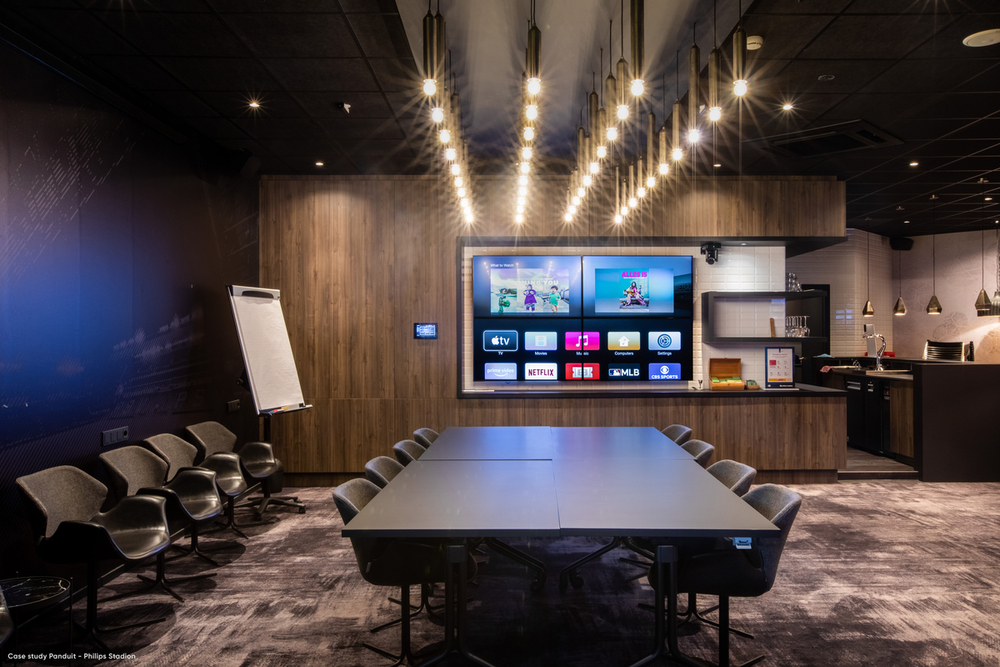 Benefits
Easy content updates: Content can be easily updated by staff. Custom branding and content on displays as well as promotions and sponsored content can be created and deployed instantly.
Remote upgrades: New software updates can be pushed remotely to ensure all displays are running smoothly with the latest features and stability requirements.
Complete wireless solution: Staff and guests can cast and stream content from their Windows, Apple, Android or Linux devices instantly for increased efficiency during meetings and training sessions.
A personal touch: Content can be customised using the CMND & Create tool. The content-management module of CMND allows for easy creation and distribution of branded and personalised content, as well as event information.