New B-Line Crestron Connected® and Chromecast built-in range available across EMEA
Designed for maximum versatility, Philips B-Line displays are equipped to enhance meeting room collaboration in office environments and bring new levels of simplicity to sharing and scheduling content in a wide range of settings including education and food and beverage
PPDS is excited to announce the availability of its highly anticipated new range of Google- and Crestron-Connected certified B-Line Ultra HD pro TVs for seamless content sharing and collaboration in meeting rooms, education settings and hospitality environments.
First unveiled in February during ISE 2020 in Amsterdam, the new B-Line range is one of PPDS' most advanced and flexible pro TV lines to date, providing a wide range of benefits and dedicated features to suit multiple industries. Combining the latest UHD display technology, powered by Android and Google- and Crestron-Connected , B-Line brings advanced and seamless content sharing and presentation capabilities to any meeting space – whether a large boardroom, huddle space, or a classroom – while its effortless content creation and scheduling tools make B-Line a perfect experience-enhancing addition to any food and beverage business.

Jeroen Verhaeghe, Global Product Manager for Professional TVs, comments: "The reaction and feedback from the market since the unveiling of our new B-Line range at ISE has been incredibly positive, with customers recognising the many different benefits and opportunities it provides, whether looking to enhance collaboration in meetings, or boost communications to customers in bars, restaurants or even small kiosks with live menus, entertainment or marketing. We're delighted to bring this innovative product to our customers across EMEA."

Service with style

Available in 50", 58", 70" and 75" models, and with a 65" option in development, the new B-Line series opens a plethora of opportunities for businesses looking to improve and streamline their digital communications, with extensive dedicated features and functionalities inside an all-in-one, simple to manage solution.
Harnessing the power of Android P, Crestron Connected and with Chromecast built-in, content (in up to 4K) can be created and wirelessly shared from any BYOD device – including laptops, tablets, smartphones, and/or a corporate server. Meanwhile, HDMI Hotplug detection caters for wired connections, with auto switching between connected devices.

Verhaeghe adds: "One of our greatest strengths is listening and understanding the needs from the market. B-Line, together with our enviable partnerships with organisations such as Crestron, are a perfect illustration of PPDS providing solutions that matter and meet the needs of our customers, not just for today but in the future, as well."

Corporate and office environments

Using the B-Line in business meetings is simple. Participants can use the embedded Chromecast function to wirelessly connect to the B-Line, allowing them to securely, seamlessly and instantly cast content, such as a presentation, from their device, directly onto the display. With more than 55 million unit sales, Google Chromecast is one of the world's most popular streaming devices and the most universal solution for wireless presentation available on the market – with B-Line there's no need to integrate it separately.
As well as being Crestron Connected, Extron and Neets IP control compatible, and with Crestron/Extron SXP drivers available, the B-Line features HDMI Hotplug detection – automatically finding and responding to a user's actions so that they can connect their device via one of the HDMI inputs.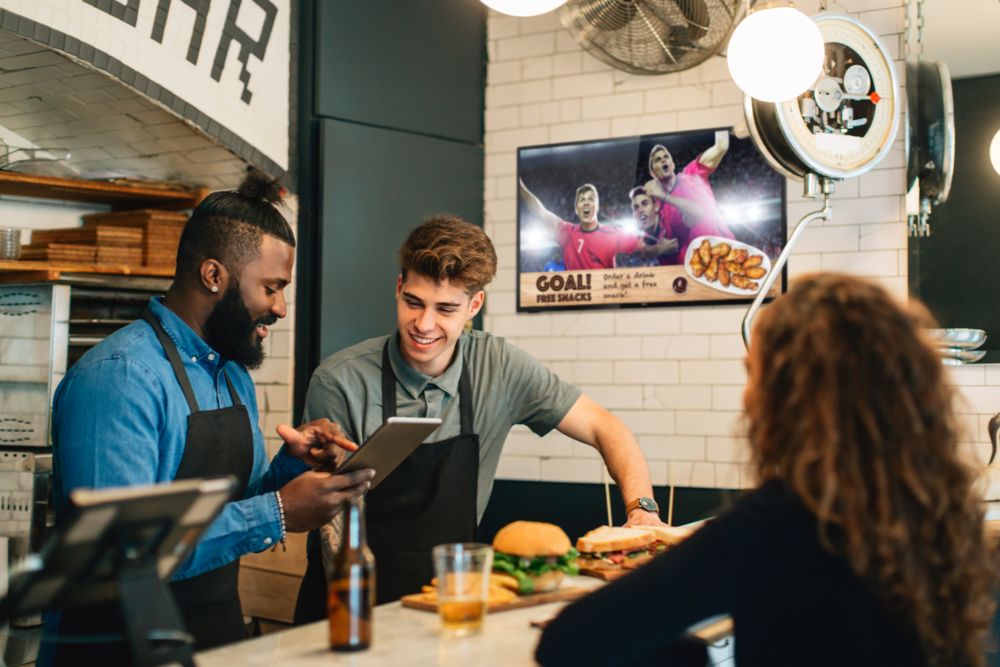 Food and beverage

The B-Line series is also perfectly equipped and positioned to help food and beverage organisations offer an enhanced solution for displaying content and communicating important messages to customers.
Running on the latest Android P software and with a TV tuner, B-Line displays provide instant access to a wide range of apps and services via Google Play and can be upgraded as and when updates are released, stretching investments and extending lifetime.

Whether one TV or a thousand across multiple-location, B-Line displays come readily equipped with PPDS's end-to-end solution, CMND, giving IT managers and staff full remote management and control of all TVs, including what's being displayed, troubleshooting and updates – all via a single, easy-to-use interface.

Scheduled or ad-hoc messaging can be created and displayed quickly, including ads for upcoming sporting and other events, changes to menus and important venue information.

Verhaeghe concludes: "With pubs, restaurants and bars now reopening post lockdown, it's important to ensure customers are comfortable, entertained and, more so than ever, well informed at all times. The ability to schedule content, as well as respond immediately to the conditions – such as an impromptu reminder around social distancing or, for example, half price drinks if the local team on TV wins – are all possible with B-Line."

B-Line features at a glance:

Chromecast built-in for wireless presentation: Make meetings run faster and more smoothly with seamless wireless connectivity to the big screen from any Apple, Windows or Android device. Chromecast built-in enables instant casting of presentations and media from mobiles, laptops and tablets in up to 4K resolution. Its cost-effective, requires no extra hardware, and is secure for corporate use.

Meeting room integration: Providing enterprise level connectivity, the Philips B-Line is Crestron Connected certified and compatible with both Extron and Neets systems. This enables content scheduling, settings management and the ability to switch each display on or off from a central location. Better still, it allows for fast, reliable, and secure wireless and wired content sharing from Apple, Windows, Android and Linux devices.

Automatically switch between connected devices: Innovative HDMI Hotplug detection caters for wired connections, with auto switching between connected devices. Delivering smoother, faster and more focused team sessions with zero technical distractions.

For more information please contact your local PPDS sales manager now or visit our dedicated B-Line web pages here.