Les Cottages de France
Les Cottages de France revolutionises its entertainment with PPDS
Background
A charming new concept in the heart of France, Les Cottages de France combines contemporary hotel luxury with diverse arts and entertainment. Situated just ten minutes away from Paris-Charles de Gaulle airport, this unique four-star establishment is the perfect location for business travellers and holidaymakers touring the many connected cities. Whilst each of the 64 tastefully decorated guest rooms are abundant in modern creature comforts, what truly makes the Les Cottages de France standout from the rest is its Cottage Club—a multi-function entertainment hall packed with delightful surprises.
Challenge
Fusing affordable accommodation with airport convenience, Les Cottages de France has rapidly become a popular spot for travellers on layovers, business trips, and general visits. Determined to give guests a spectacular experience like no other, the establishment's owner created a multi-function entertainment hall to host live stand-up comedy, music events, and sports days. With a fully loaded bar, luxurious couches, and an indoor jacuzzi already in place, the only thing that was needed was an impressive AV solution to elevate the performances.
Solution
To complete their grand vision, Les Cottages de France teamed up with PPDS and ACAD Equipement for a spectacular AV solution. Through this collaborative alliance, an impressive 137" Philips LED wall was strategically placed across the mainstage of the hall. Seamlessly integrated with the stage and its sound system, the display was specifically designed to transform the entertainment hall's ambiance to perfectly match each performance, and wow the audience. Thanks to its easy content management system, staff at the establishment are always in control with instant updates at any time. When live performances aren't on stage, the Philips LED wall brings sports matches to life with its ultra-high-resolution picture quality.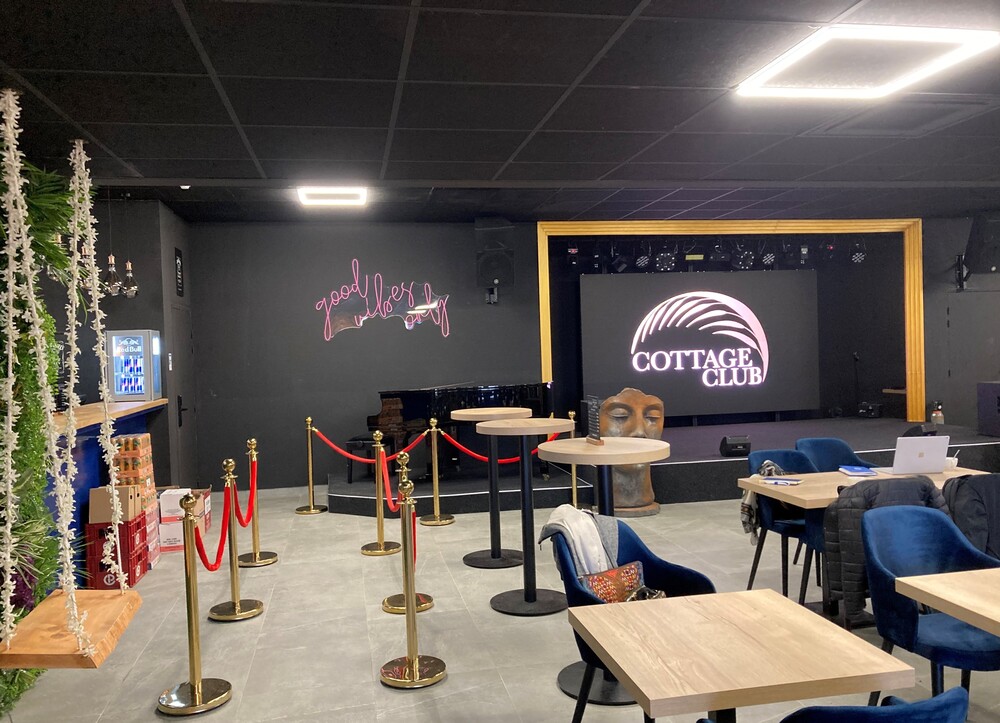 Benefits
Versatile LED wall: Seamless integration and smart connectivity that's ready to transform the entertainment hall into any unique setting.
High-performance display: High-brightness, high-contrast, and high-resolution picture quality for vibrant visuals that bring the content to life.
Effortless content updates: Manual and automatic content scheduling enable staff to stay in control at all times.
Endless evolution: Future-proof design allows for new features and upgrades to be added as needed.