Celebrating International Women's Day 2023
It's International Women's Day and at PPDS we are delighted to celebrate women in AV, women in tech and all women across the globe. To celebrate today, we sat down with a few of the women on the North American team at PPDS, Alison Maxson, Beth Donow, Megan Lipinczyk, and Kristen O'Connor, to find out what this day means to them and how the AV industry is including women.
The concept of International Women's Day started in the 1900's, specifically in 1908, when 15,000 women marched through New York City demanding shorter hours, better pay, and voting rights. The following year in 1908, the first National Woman's Day (NWD) was observed across the United States on February 28th. The day has evolved dramatically since then, and now is celebrated on March 8th around the world. Just as the day has evolved, so has the presence of women in a heavily male-dominated AV industry. More women than ever are pursuing careers in the industry, and with groups like the AVIXA women's council, the opportunities are endless in the industry.
To celebrate today, we sat down with a few of the women on the team at PPDS, Alison Maxson, Beth Donow, Megan Lipinczyk, and Kristen O'Connor, to find out what this day means to them and how the AV industry is including women.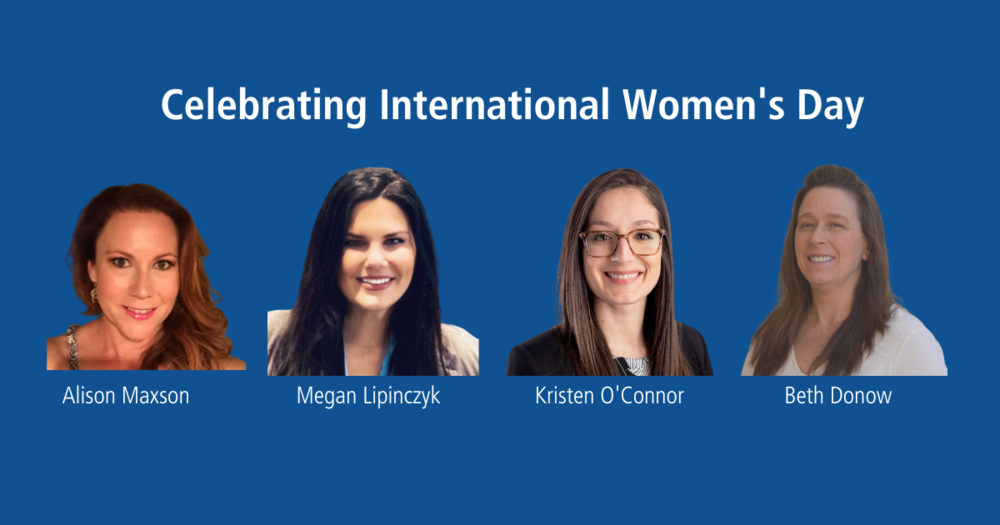 What does International Women's Day mean to you?
"It is nice to have a day where women are celebrated, and celebrate each other for all that we bring to the table, said Beth Donow, Supply Chain Manager of PPDS North America.
Megan Lipinczyk, NA Channel Marketing Manager, echoed that sentiment, "Absolutely agree with Beth. International Women's Day represents an opportunity to raise awareness of gender inequality, advocate for women's rights and empowerment, and educate to help create a more inclusive and equal society for all. It is important to have a day focusing on this and on women."
How do you feel the AV industry has changed to be more inclusive of women?
"The industry has made progress, but we have a long way to go before gender parity can be achieved; women remain drastically underrepresented in key leadership positions," noted Kristen O'Connor, PPDS' newest sales operation manager for North America. "As more women are given a seat at the table, the industry will become a more equitable environment and allow for more representation of diverse perspectives and backgrounds, leading to more creativity and innovation that everyone can benefit from."
A member of the AVIXA Women's Council, Senior Marketing Manager Alison Maxson added, "While there is still a lot we need to do in growing the number of women in the ProAV industry, I have seen the increase in outreach to young girls and women in helping know about and cultivate an interest in AV. It is excellent to see outreach and education that lets young women know about this exciting industry and that it is a viable career choice for their future."
Results from a study by AVIXA in 2022, showed that 11 percent of the ProAV career base was made up of women, so there is definitely room for growth.
Beth Donow added, "Over the years, it has been nice to see more women in this field. Today women are involved in all aspects of business, with representation in management, marketing, sales, logistics, etc. Years ago, women were more in support roles as opposed to managements role in the display industry. Hopefully, this trend of inclusion continues."
PPDS strives to have an inclusive culture both here in North America and globally, so we wanted to know, What is your favorite part of working at PPDS?
"The people, 100%," responded Alison. "While I love our products and solutions, it's all about working with a great team that means the most to me. At PPDS, we have a great support system among all the different teams no matter where they are based."
Beth added, "It is a collaborative work environment where you feel supported. At PPDS, your contributions to the team and the business are recognized and appreciated."
Even Kristen, who has been with PPDS for a short time, commented, "Since joining PPDS, I have already noticed the unique and gratifying experience it offers. By being part of PPDS, I am helping to advance the technology industry, promote its diversity, and create positive change for the future. Every day is an opportunity to build something meaningful that can help inspire younger generations of women looking to pursue careers in tech."
These women are an integral part of PPDS's success and are an incredible example for other women to look to as inspiration in the AV industry. But, more importantly, they are passionate about what they do and educating others about potential careers in this field.
We finished the Q&A by asking what they love most about their job in the industry.
Megan summed it up best by saying, "I love that I have the opportunity to work with cutting-edge technologies, collaborate with a diverse range of fantastic professionals, and engage in creative and strategic initiatives. Additionally, the AV industry is constantly evolving, which can provide exciting opportunities for growth and innovation. Finally, I truly enjoy building relationships within our industry and creating and executing projects to increase our overall business."
Thank you, Alison, Beth, Megan, and Kristen, for sharing your experiences on International Women's Day.