Besson Chaussures
Besson Chaussures digitises its store experience with PPDS
Background

An oasis for shoe lovers, Besson Chaussures is a French-based retail chain that provides its customers with impressive collections of shoes and accessories at discounted prices. With 149 stores and counting, Besson Chaussures caters for men, women and children of all ages and styles. A perfect combination of perpetual customer demand and heavyweight buying power has lead the chain to stock some of the world's most desirable brands, as well as store exclusives. Leading the way in pleasure without concession, Besson Chaussures plans to open 20 new stores each year to keep up with the needs of its customers.
Challenge

In a world of rapidly evolving fashion trends paired with ever-increasing customer demands, Besson Chaussures is quick to source and stock large quantities of the latest collections as well as the classics. To help its customers navigate throughout the stores and learn about the latest offers, collections and important announcements, Besson Chaussures needed a digital signage solution in each store that can be updated as quickly as the new collections that come in each day. The signage solution also needed to be impressive in size to match the large-format stores and the many aisles of shoes and accessories.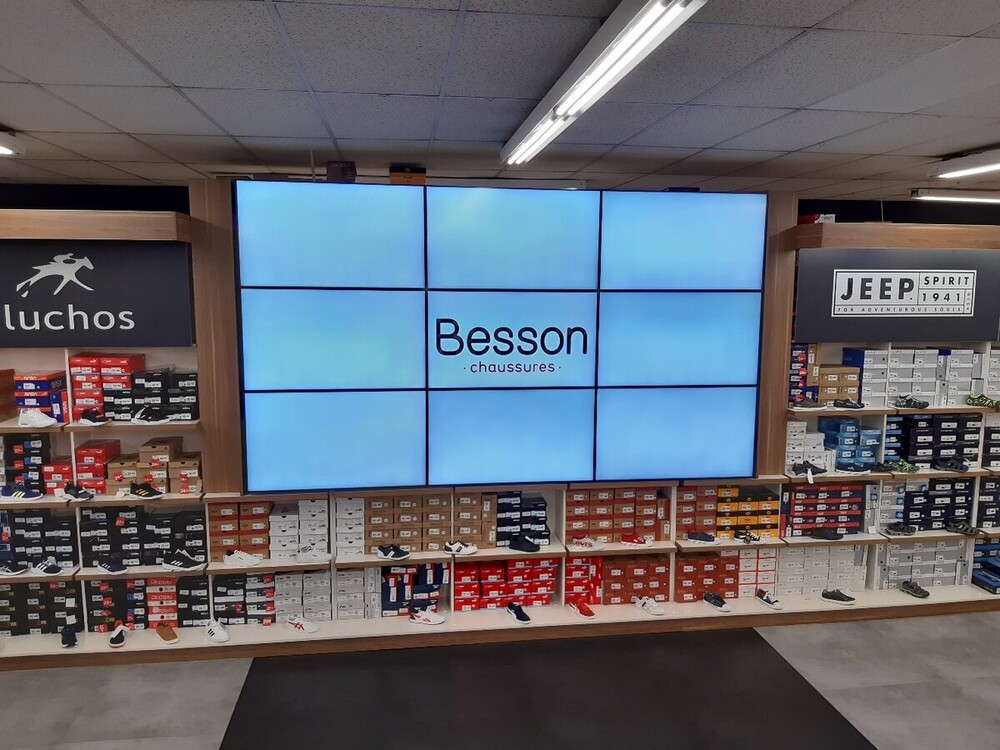 Solution
To optimise their in-store customer experience, Besson Chaussures teamed up with IAGONA and Philips Professional Display Solutions for a custom signage fitout across their stores. To make an impact, large nine-screen Videowalls were strategically positioned to command attention and inform customers. Screens were also placed behind the cashiers to display handy information as well as last minute sales hooks. Each store received a tailored solution to match its warm ambience and layout. The screens are all connected to IAGONA's custom NEOSCREEN digital signage software, allowing staff to control, update and push new content easily and instantly across all or selected screens. The displays chosen for this fitout were selected for their high-resolution picture quality and energy efficient operation, resulting in brighter, more vibrant stores with low running costs.
Benefits
Efficient content updates: Besson Chaussures staff can update their in-store content with new product lines, promotions, and important information instantly.
Remote upgrades: IAGONA can push new software updates remotely to ensure all screens are running smoothly with the latest features and stability requirements.
Future-proof: New demands from Besson Chaussures can be easily configured and deployed by IAGONA, enabling them to add new features when needed.
Energy efficiency: Low energy consumption screens ensure lower cost of operation and a greener carbon footprint.