AlienTrick
AlienTrick beam their out of this world concepts with PPDS
Background
A creative cosmic agency known for their multi-dimensional ideas, AlienTrick has been helping global and local brands of all sizes achieve out of this world results since 1997. Based in the Netherlands, this boutique advertising agency brings multidisciplinary thinking together by fusing strategy, creation, activation, and technology in intergalactic harmony. Ranked as one of the best agencies and having earned multiple awards since inception, AlienTrick know how to break through the boundaries when it comes to product launches, brand development, creative production, and futuristic design.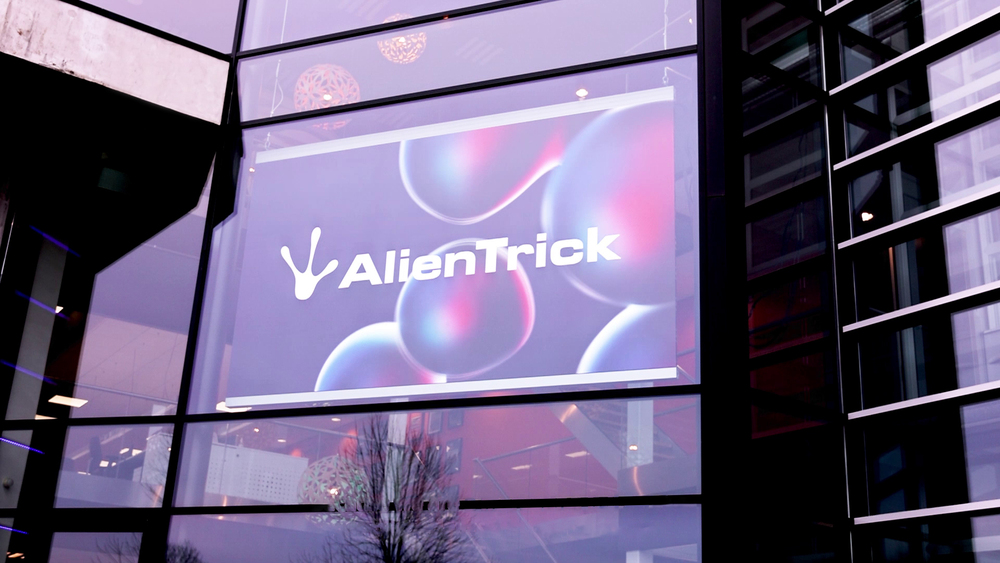 Challenge
At the forefront of creative and technological innovation, the world's greatest brands have long depended on AlienTrick for their expertise. With their impressive multilevel base that exudes a vibe reminiscent of a secret Area 51 facility, every element of the agency has been meticulously designed to reflect the team's core values and mission. The only thing needed now was a high-brightness solution to showcase AlienTrick's out of this world work, out of their agency.
Solution
To transform their vision into reality, AlienTrick teamed up directly with PPDS for a special in-house collaboration. Unifying their expertise to create a perfect solution, AlienTrick and PPDS strategically placed a custom outward facing Philips L-Line LED wall behind the agency's windows. This oversized solution enabled AlienTrick to showcase their greatest work to help inspire the world with their creative concepts and capabilities. The display is also used to advertise job vacancies, and announce exciting news such as their latest awards and accolades. Chosen for its seamless panel integration, the Philips L-Line is a true reflection of the agency's work, which knows no limits, and no boundaries.
Benefits
High-brightness: Designed to attract, the Philips L-Line LED wall features super high-brightness panels to command attention in all lighting conditions.
Seamless design: Zero-bezel panels create a clean distraction-free visual experience that puts the content in the spotlight.
Energy efficient: Low power consumption means lower running costs and less environmental impact.
Low maintenance: IP30 rated coating for enhanced dust, dirt, and moisture resistance makes the Philips L-Line LED wall ideal for hard-to-reach placement.