Oracle Red Bull Racing
Driving fast-track global hospitality: Philips dvLED wall transforms Oracle Red Bull Racing Paddock Club experience
Background
From the back office to the front of the grid, the Oracle Red Bull Racing team works as a finely tuned team, bringing the very best of F1 racing to fans and the world. The team's ethos for quality and excellence continues through to the hospitality it presents to its guests on race weekends as a part of the Oracle Red Bull Racing Paddock Club experience. Requiring a step change from its existing, multi-display set-up that took hours and mass manpower to set up, the hospitality team sought a new way to bring all the action of the race, and more, to its super fans.
Challenge
With a packed schedule for the season, the Oracle Red Bull Racing team required a solution that truly represented the Oracle Red Bull Racing brand identity, with precise colour calibration and perfect resolution. They also required a display that could show multiple feeds at any one time, that could be set up in hours rather than days, with minimal effort, and that could be transported easily and securely. A challenging brief that PPDS were delighted to bring into being.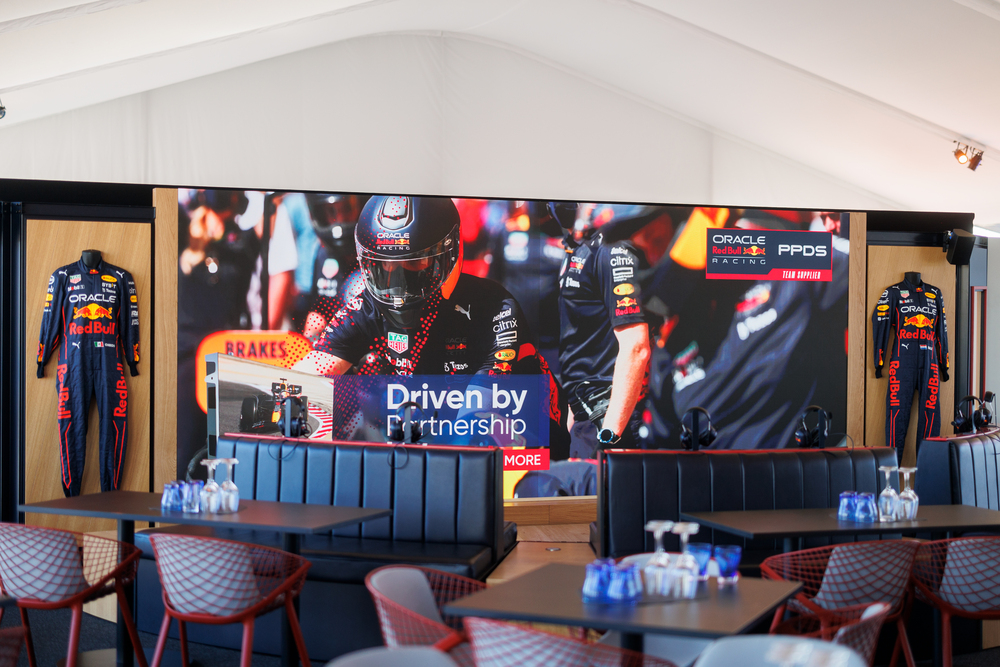 Solution
Understanding the incredible pressure that time constraints presented to the Oracle Red Bull hospitality team, PPDS set about designing a completely customised solution, delivering three state-of-the-art dvLED wall solutions that could be rotated throughout the season, allowing the team ample transportation time ahead of each F1 race weekend.
The 9000 Series 1.5 pixel pitch dvLED walls span an incredible 10m2, making them by far the largest in the entire F1 Paddock Club, and comprise of two identical flight cases containing pre-configured walls that hinge and join together, and surrounded by Oracle Red Bull Racing branded casing, to create one giant showcase.
As well as the Philips dvLED displays in each Paddock Club, the experience is augmented with Philips MediaSuite professional TVs, as well as Philips gaming and touch monitors.
Benefits
Easy transportation: Separating and folding easily into two bespoke flight cases, three sets of giant LED displays are in circulation, giving the Oracle Red Bull Racing hospitality team total confidence that their kit will be on location, on time, ready for easy install.
Super-fast set up: Folding out of two customised flight cases, the Philips dvLED wall solution can be set up in under an hour, allowing the team time to encase it in Oracle Red Bull Racing surrounds, with shelving and cabinets for team and sponsors' branding.
Fine-tuned colour calibration: Matching the Oracle Red Bull Racing lighting specific colour guidelines was a must. The Philips 9000 Series combines the very best in quality components to deliver whites, blacks, colour and contrast, texture and speed with no compromise.
Multiple feeds: From the pit lane to the cockpit, delivering live stream and pre-recorded content, the awesome 10m2 Philips LED wall splits into multiple feeds to allow the Oracle Red Bull Racing hospitality team to present the full experience for their guests.