Krankenhaus der Augustinerinnen
Krankenhaus der Augustinerinnen optimises patient treatment with PPDS.
Background
Founded by the religious order of the Cellitinnen in 1874, the Krankenhaus der Augustinerinnen (Hospital of the Augustinians) started as a noble initiative by two sisters in Cologne, Germany. Since then, the hospital has continued to pave the way in innovations through continuous expansions and modern advancements, which have notably lead to the first private X-ray department being opened in Cologne in 1913. Today, the hospital provides general and specialised patient treatment, and also serves as a comprehensive training ground for medical students and staff.
Challenge
Extensive expansions to the Krankenhaus der Augustinerinnen have allowed for greater patient care across medicine, management, nursing, as well as pastoral care. With more rooms, wings and sectors, the hospital now facilitates treatment and training for a substantially larger amount of people each day. Modern advancements has meant that patient consultations and treatments are completed faster than ever before. To ensure the safety of all patients and staff, the hospital needed an efficient system to streamline the cleaning process of each room between patient consultations.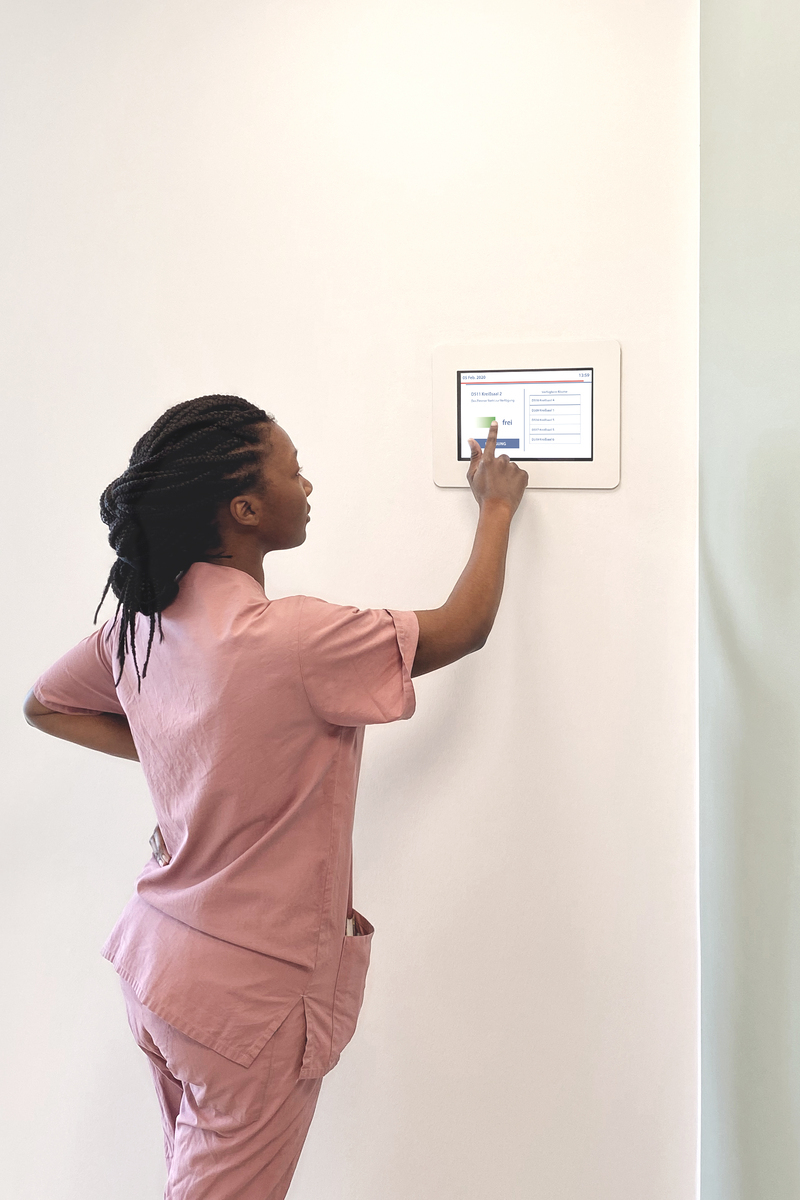 Solution
To boost patient safety and hospital efficiency, wizAI solutions GmbH and PPDS teamed up to create a custom installation for the Krankenhaus der Augustinerinnen. Together, an intelligent system that displays interactive hospital floor plans, cleaning schedules, hygiene requirements, and room availabilities was developed and rolled out across the site. A suite of Philips T-Line Touch Displays was chosen to provide staff with the ultimate convenience in making status updates for each treatment room in an instant. An easy to use Management Console linked the screens with the hospital's existing computers and tablets to provide live updates across all screens. This has resulted in an optimised cleaning process that allows for faster patient intake with a lower cost of operation.
Benefits
Interactive information: Hospital staff can instantly access and update the status of room availability and cleaning requirements across the entire site through an interactive on-screen floor plan.
Remote upgrades: Software updates can be remotely deployed over the air to ensure that the latest features and security patches are installed. Updates are instant, and can be directed to the entire suite of screens or selected sectors. Touch-screen: Information can be updated efficiently through touch-screen technology, allowing hospital staff to focus on their tasks with zero time wasted using traditional administration and communication methods.
Seamless integration: All displays are integrated into the central Management Console for live updates across the fleet and seamless connectivity with the hospital's PC and tablet set-up.