Kwik Trip
Kwik Trip Boosts Sales with New Revenue Streams Enabled by PPDS
Background
Kwik Trip is a convenience store chain with over 700 locations spread across the main highways of Wisconsin, Minnesota and Iowa. If you've travelled through any of these sprawling states, you've likely stopped into a Kwik Trip and been pleasantly surprised by the host of fresh food options that they offer, among other items. Known for its adaptive approach to business, Kwik Trip is a vertically integrated company with ownership of many of the brands that it sells, from baked goods to snacks and even dairy – making them not only quick but smart, too! Most recently, Kwik Trip has aimed to enrich their customer experience, while driving sales and creating new opportunities for the brand, as well as increase the agility of the in-store sales team to drive higher food revenue. The decision was made to introduce digital signage to meet these strategic company goals.
Challenge
Kwik Trip is rapidly expanding, modernizing, and streamlining its business. Since they introduced hot foods in 2003, they have aimed to continue building new revenue streams into their business model – adding a fresh food program and made-to-order options from a small menu in 2005. But with so many food offerings, and sales reaching 8 million customers per week in 2019, Kwik Trip needed to market their products in-store more effectively and efficiently at scale, to ensure they could meet rising demand without straining their workforce. Their existing model for print signage created limitations for real-time market testing to help with continued revenue development. Additionally, with so many new locations, the company considered the value of consistent modern aesthetics across all of its stores. It concluded digital signage was the evolution they needed to take that next step into the future of the business.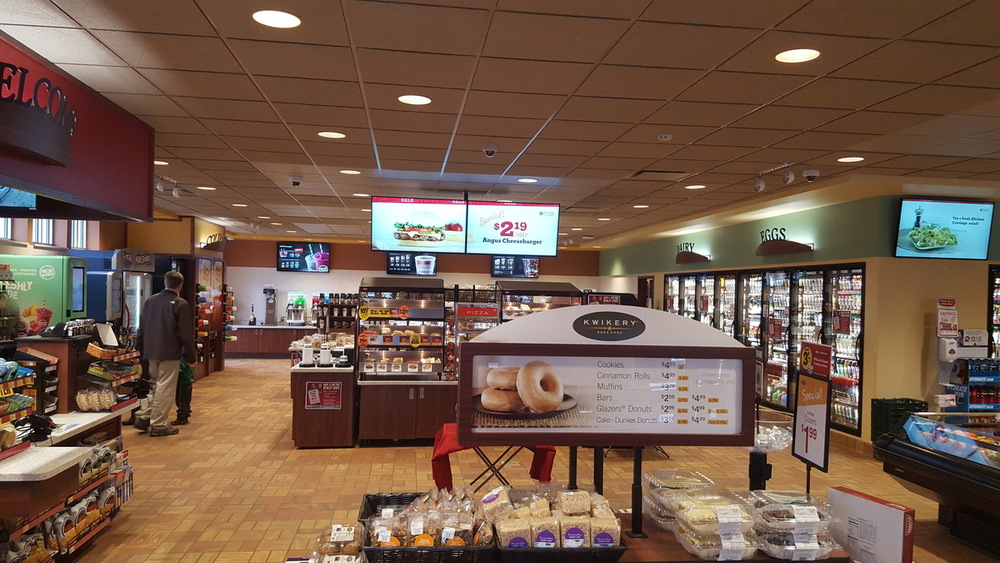 Solution
Wasting no time to address their in-store signage agenda, Kwik Trip found the right solution, with cost savings and superior service in their partnership with PPDS. Since the start of installation in 2018, Kwik Trip and PPDS have closely collaborated to install digital displays across all 700 retail locations throughout the mid-west – creating immediate modernization for the brand with a fresh look and feel across all their sites. And thanks to the Android backed System on Chip (SoC) of Philip's D-Line, Kwik Trip saw an estimated $1.9 million in savings by eliminating the need for pricey external media players. Further, with Digital Touch Systems content management software, Kwik Trip can easily manage all of their screens from corporate headquarters, allowing for day-parted messaging on their digital signage and menu boards. Beyond the product, Philips Professional Display Solutions was able to make the shipment and delivery process seamless. When the standard shipping-pallet sizes threatened to slow down the installation process, Philips built custom pallets that would fit through narrow doorways, ultimately increasing the efficacy and efficiency of the installation, contributing additional savings to the project.
Benefits

Increase in Sales
Since the installation, Kwik Trip has seen increased hot food sales for foods marketed with in-store digital signage, thanks to the use of vivid food photography – helping customers visualize what the food looks like under the wrappers.
New Revenue Streams
Thanks to Philips Digital Touch Systems software, which allows full remote control from Kwik Trip's headquarters, as well as support and management for their Android-powered screens, Kwik Trip now has the flexibility to test new products, day parting and messaging across all stores – like soups, which they are hoping to capitalize on in the coming months, given the positive uptick they have seen in recent tests.
Modern Look & Feel
With promotions, information, and menus all displayed on vibrant screens, the aesthetic look and feel at all Kwik Trips have dramatically improved.
Android: SoC platform led to $1.9 million in savings and enabled faster and more versatile management, as well as automatic updates to ensure apps stay up to date.
Warranty & Reliability: Philip's 3-year advance exchange warranty entitles our customers to a replacement device so they are not left without a faulty display. To date, the installation has maintained an astonishingly low failure rate of less than 1%.