Trasmediterránea
Trasmediterránea uses digital signage to improve the experience of its passengers
Challenge
The digital transformation and Internet have revolutionized the way of travel and the way we consume content. For that reason, Transmediterránea had the necessity of incorporate the latest technology so as internal communication between the staff and passengers could be modernized.
The big challenge was to install a solution in a critical environment where information could be broadcasted via satellite both centrally and locally in each maritime station or ship.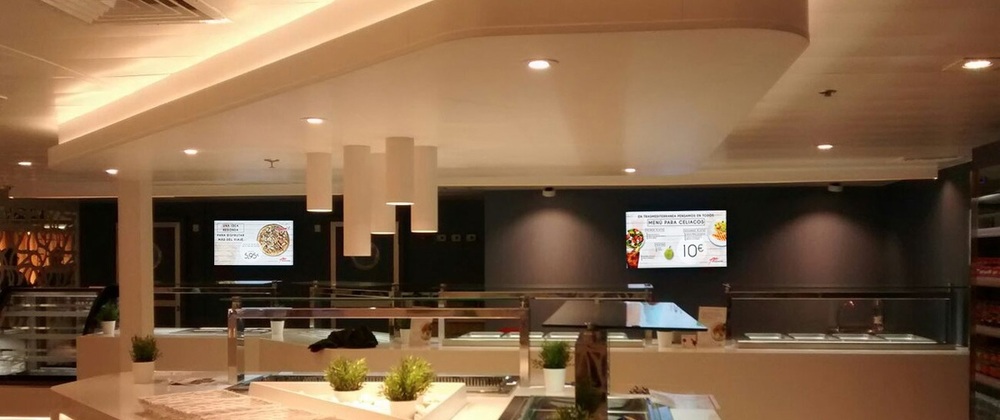 Solution

It was installed more than 60 Digital Signage points in its highspeed fleet – Millenium Dos, and its Superferries and Ferries: Juan J. Sister, Forza, Sorolla, Algayzin, Zurbarán, Fortuny and Tenacia – through Deneva software of ICON Multimedia's manufacturer.
The solution implemented in different ships is composed of 10 large-format interactive totems distributed in crowded areas which have, some of them, mobile service charging through USB connection. Over 50 Philips Full HD Display of 42" and 43" have been implemented.
All of them show relevant information: services and activities availables onboard or special promotions for travelers through the Product Promotion Interface with the ability to link with social media content. In addition, Fortuny and Sorolla boats have 2 videowalls with 4 screens each.
Deneva allows passengers to access to boat news feed portal in order to get to know any additional message provided by the crew of each vessel at any time of the day.
"The touch screems installed with Deneva touch applications allows guests to easily get useful information such as timetables, weather information, news or entertainment possibilities and activities that are programmed. These devices have multiple simultaneous points of contact and the security of a antireflective display", adds César Sanz.
Transmediterránea decided to install, additionally, Deneva software in their local offices in Barcelona, Valencia, Algeciras, Ceuta y Melilla. There are 20 Digital Signage points that show passangers dynamic information about the next departures and arrivals or the latest promotions.
Result
The shipping line has increased its branding value by focusing on the specific needs of each passenger. This is the most positive part of customization, unique and special experiences are generated through it. Messages are remembered more and it have a positive impact on the company's branding.