The retail challenge - Helping system integrators stay ahead of the game
As physical store managers continue their fight to remain viable and accessible for a customer base that is being driven online – whether for efficiency or for safety – so system integrators in the retail space have a rising challenge to keep their services relevant and required.


In this article we explore two of the challenges we've been told are keeping our system integrator partners on their toes – making space for social distancing and ethics plus sustainability , and how digital display solutions may be able to help…
Making space for social distancing
While the pandemic has ripped through the idea that a customer-packed store will encourage the curiosity of others, as displays are dismantled to make more through-space and interactive displays are made almost redundant (we believe for the very short term), well-designed, socially distanced stores present much opportunity for system integrators.
We're expecting store design to continue to evolve into a more health and wellbeing conscious environment, focusing on showing cleanliness and space to bring customers back with confidence. These will include:
Separated areas - while stores in many countries are moving away from the acrylic dividers between aisles and checkouts, there is likely to be a rise in the requirement to communicate separated areas – zones – to shoppers. Strategically placing digital displays around a store can help to remind and manage customers, giving system integrators to deliver not just the display, but interrelated software and complementary hardware, such as intelligent cameras, as well.
Order collection points – it's likely that retailers will devote more floor space in their stores for order collection points, allowing click and collect customers to order online and come into store to collect. This presents an opportunity for well-positioned digital displays to cross sell products in-store, that the customer may not have considered online. From the batteries needed to power a new toy, to the shoes that perfectly match that killer suit.
People counting technologies – we may be free to enter stores without limited headcount at one point in time, but the potential for people counting technologies has been explored and found necessary more than once so far during this pandemic. Helping customers to feel confident upon entering a store, software enhanced display solutions can help store managers to automate queue management, delivering timely, confidence enhancing sales messaging and infotainment as well.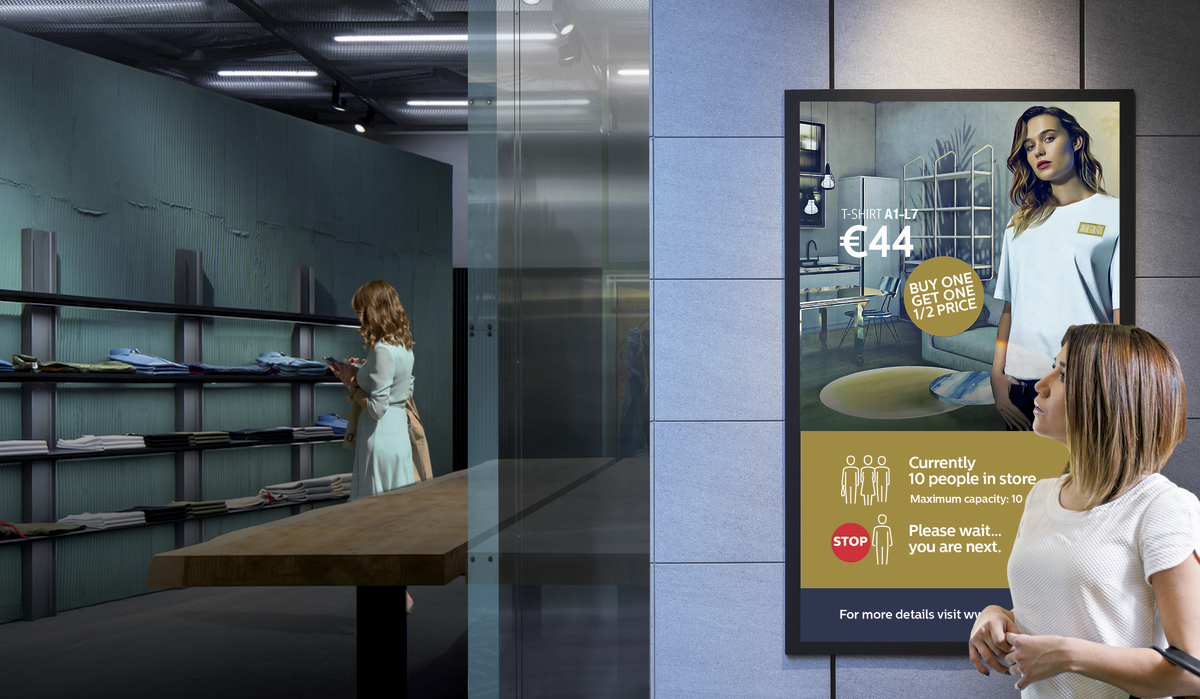 The ethical shopper
Sustainability has been growing in demand for some years, but the effects of the pandemic, far reaching as they are, have meant that consumers are more in tune with their ethics and sustainability expectations than ever they were before.
Reduced paper waste – using digital signage for point of sale, wayfinding and other messaging in store, as opposed to leaflets, posters and other paper or plastic-based displays helps a store to reduce its paper usage, and to be more time effective. Messaging and imagery can be changed in an instant, reflecting weather conditions, time of day, customer profile and more, all without any wasted paper being created.
Philips professional display sustainability - Philips professional displays are designed with sustainability in mind. Our Android SoC platform enables installers with easy coding and software integration opportunities, while our finance solutions allow us to reduce the amount of WEEE disposal as a result of our products. What's more, all of our products are manufactured in-house, so our ethics and accountability are in check every step of the way.
At PPDS we have partnerships with the complementary services and products needed to build meaningful and suitable solutions for their customers, pulling upon our industry knowledge, our partner network and our people resources to offer the solutions you need to make efficient business better. Find out more from your PPDS sales manager today.