La Télé
La Télé presents a unique studio approach with PPDS
Background
Broadcasting news and magazine programmes since 2009, La Télé is a French-speaking television channel with two studios based in Vaud and Fribourg, Switzerland. As one of only 13 licensed regional TV stations, La Télé is popular for its diverse selection of shows covering politics, economics, social commentary, sports and cultural news. With its progressive setup, this station provides an open space for people to express themselves and exchange views to inform and entertain their audience.
Challenge
An ever-expanding list of TV programmes and audience reach meant that La Télé needed an innovative solution to give each show's set design a distinguished look. With two small studios used for back to back recording sessions, the ability to change the visual aesthetics of each set as efficiently as possible was essential. Furthermore, each studio needed to be capable of supporting the various set formats including narrative presentations and multi-guest debates and gameshows.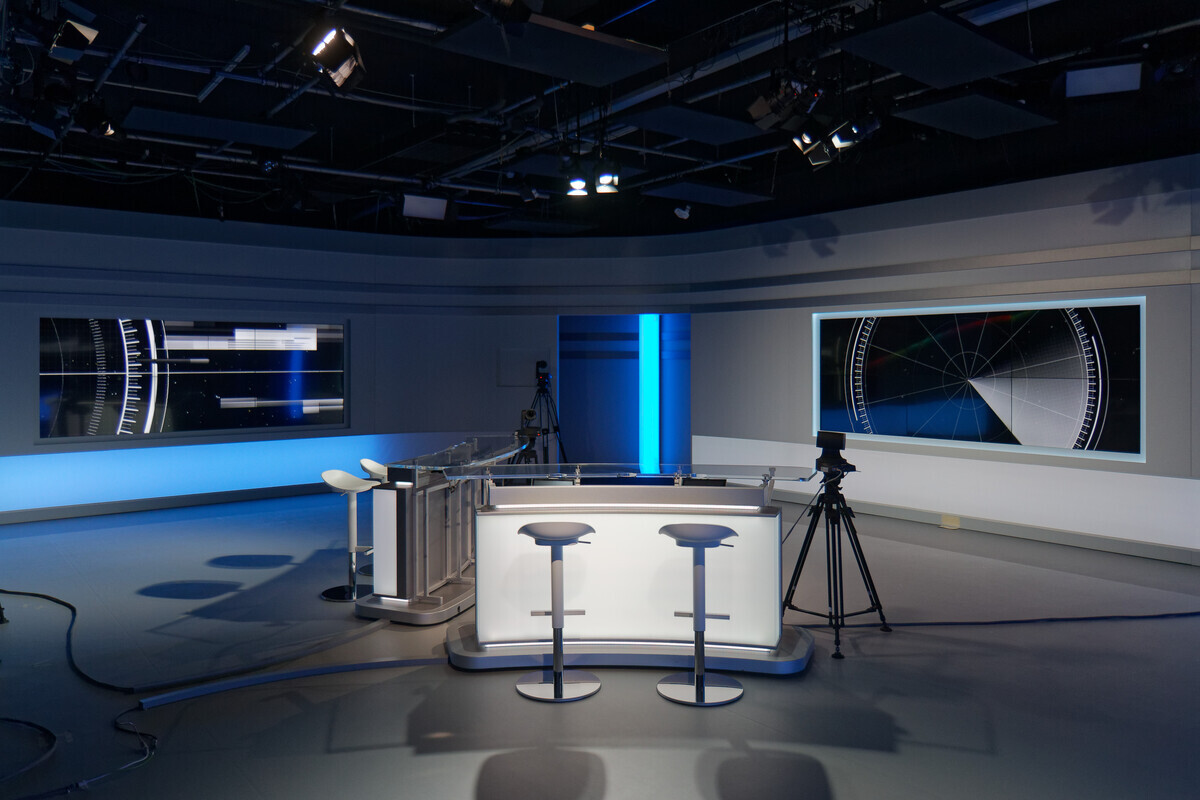 Solución
To meet the unique needs of La Télé, leader partner Informatique NEXAN SA called upon PPDS. Martix Resolution SA's expertise in VideoWall integration was also called upon for the adjustments and calibration of the displays. The company Mediasupport of D.Kunz has created a custom software driven by the Newsroom Computer System (NRCS) in order to drive each display independently. A turnkey design approach was led by the studio's internal team to cover both current and future needs of the station. X-Line Videowalls paired with oversized 86-inch Q-Line displays were strategically installed in each studio. All screens can be managed automatically or manually via a custom control system to display newsfeeds, branded set scenery, gameshow questions, and other unique elements without the need of an extra person in the control room. This resulted in faster set changes, better flexibility and greater cost efficiency for the station.
Beneficios
Diseño versátil: Las pantallas colocadas estratégicamente en el estudio, permiten un cambio de imagen instantáneo con la posibilidad de cambiar drásticamente el ambiente y usar imágenes personalizadas y flujos de información para complementar cada programa.
Control centralizado: El sistema CMND permite calibrar las pantallas. La actualización de los contenidos se gestiona mediante un software específico creado en una plataforma Caspar CG de código abierto.
Mirando el futuro: Se pueden añadir fácilmente nuevas funciones para satisfacer los diferentes requisitos futuros, garantizando que la última tecnología esté siempre disponible sin costes adicionales de hardware.
Actualizaciones remotas: Software can be efficiently updated remotely by La Télé so that each display runs smoothly with the latest UI and stability features.